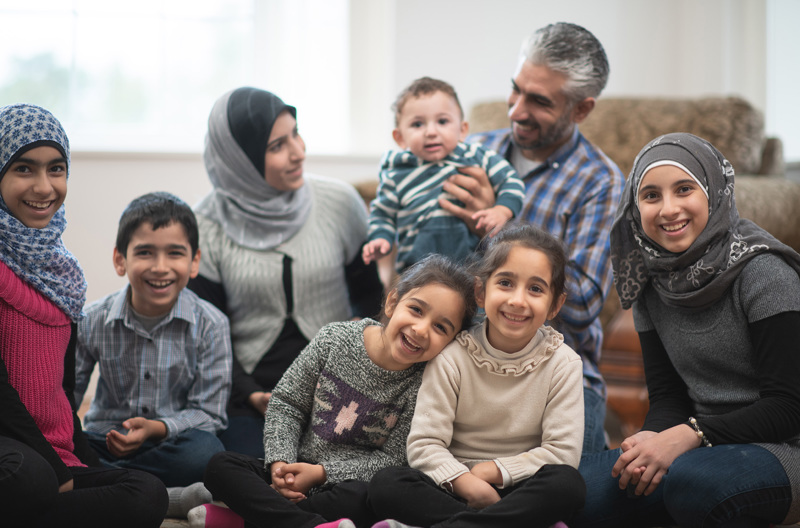 We are committed to supporting all Victorians.
We understand that traditional family structures are diverse and we believe in strengthening families and supporting people from culturally and linguistically diverse backgrounds to have positive, safe and respectful relationships. 
We provide services that cater to community needs, including by tailoring services to meet the needs of the client groups with which we work. Our staff endeavour to work with members of diverse communities to provide information and assistance on a whole range of family issues.
In collaboration with many organisations across the state, we coordinate workshops, forums, meetings, networks and support groups to meet the growing needs of Victoria's multicultural communities.
We are committed to providing access to our services for both established and emerging migrant communities in both metropolitan and regional Victoria.
We can organise interpreters on request.
Please let us know when you contact us to organise a service, if you will need an interpreter.
Programs in 2019/20
Vietnamese Men's Behaviour Change Programs (MBCPs)
Our in-language and in-culture Vietnamese-specific MBCPs continued from our Sunshine centre in 2019/2020. Delivered by experienced bi-lingual facilitators, the program is tailored to meet the needs of men from the Vietnamese community, by helping to strengthen their family relationships and educating them about family violence, and its impacts on women and children, as well as relevant Australian laws and legal processes. The MBCPs highlight the importance of healthy relationships, and support men to reflect on their behaviours and learn new ways to manage their relationships without using violence.
When COVID-19 emerged in March 2020, we suspended face-to-face groups and transitioned to a newly developed Telephone Holding Model for men who had recently commenced a program, men who were about to commence a program and later, to those who were assessed as eligible for the MBCP. Facilitators provided weekly telephone support to men that focused on risk assessment and management, while our experienced bi-lingual family safety practitioners offered regular, ongoing contact with women and children of participants to provide support, education and safety planning.
Eid Festival
In July 2019, our Traralgon Centre welcomed the opportunity to again support Gippsland's annual Eid Festival, an event for both Muslim and non-Muslim families to celebrate the end of Ramadan and to strengthen community connections. More than 500 people joined together to enjoy a day of games, craft, cultural and other activities, food and musical performances. RAV supported organisers, United Muslim Sisters of Latrobe Valley, to secure funding for the event and by providing mentoring in how to plan and deliver the event. We also facilitated an activity to create a series of canvases depicting the theme of 'the hands of friendship', featuring the painted handprints of festival attendees. These canvases now take pride of place in the counselling area of our Traralgon centre.
African–Australian Community Family Violence Workshops
In partnership with the Victoria Police African Australian Community Taskforce, we delivered a series of workshops on family violence prevention to community leaders in South–East Melbourne. The community-led taskforce and workshops arose following discussions between African–Australian community leaders and the Chief Commissioner of Victoria Police, which identified family violence education as a key preventative element in addressing the impact of family breakdown on the lives of young people in the community.
For more information about our work with multicultural communities in 2019/20, read our Annual Report.
Language translations
We are proud to work with people from a variety of different cultural and linguistic backgrounds, and we celebrate the rich diversity found within our communities. 
We know that family structures are diverse, and we believe in strengthening families and supporting people from diverse backgrounds to have positive, safe and respectful relationships. 
To help community members access our services, we have translated a range of information from our website into Vietnamese, Simplified Chinese and Hindi. 
These translations include information about: 
Our commitment to you




Family violence

Counselling

Disability counselling and support service

Family dispute resolution (mediation)

Child and family services

Forced Adoption Support Service

Redress Support Services

Programs for men who use family violence