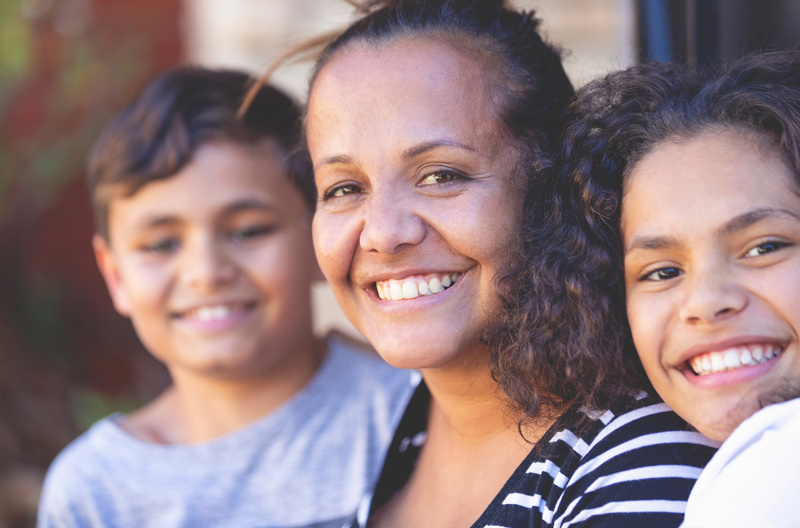 First Nations community engagement


We would like to acknowledge the Wurundjeri, Bunurong, Wadawurrung, Yorta Yorta and Gunai Kurnai peoples who are the Traditional Custodians of the lands and waterways where our centres are located. 
We pay our respects to their Elders past, present and emerging. We recognise and value the many contributions that Traditional Custodians make to Victorian communities each day.
We warmly welcome all Aboriginal and Torres Strait Islander peoples in Victoria to our services. We understand that you have a choice of providers when seeking services and hope that you will consider us when you need support. 
Our commitment to Aboriginal and Torres Strait Islander communities in Victoria
We support Aboriginal-led agreements in Victoria and recognise that self-determination is foundational to any successful and meaningful partnership with Aboriginal communities in Victoria.  
We are committed to growing cultural competency across our services and recognise Aboriginal and Torres Strait Islander peoples' lived experiences of the Stolen Generations and institutional abuse.
We are committed to promoting and ensuring culturally safe access to our services for Aboriginal and Torres Strait Islander families and communities.
We acknowledge Aboriginal and Torres Strait Islander peoples' enduring connection to Country, their deep cultural knowledge and custodial rights and responsibilities to the lands and waterways. We allow this to lead and inform us in all interactions and working partnerships moving forward.
Community Partnerships
Brutha's Day Out 2021
We renewed our commitment to supporting the Brutha's Day Out program in 2021 and beyond in partnership with Mullum Mullum Indigenous Gathering Place, who have taken carriage of the program. Brutha's Day Out is a community-driven initiative to create a culturally strong space for Aboriginal men to engage with existing community Aboriginal support services to develop strategies for maintaining healthy relationships with family, community and enabling the continuity of cultural practises. 
Culminating in an annual, multi-day gathering on Country, Brutha's Day Out participants engage in strengthening personal and whole-of-community social and emotional wellbeing through cultural practises including smoking ceremonies, yarning circles, land management practises, painting and tool making. 
Presentations from Aboriginal keynote presenters representing local services and community-controlled organisations provide education and early intervention opportunities. We have supported Brutha's Day Out for many years as it has grown and adapted to meet the needs of Aboriginal communities and we look forward to continuing involvement in the program.


Dadirri program
During 2021-22, RAV's Aboriginal and Torres Strait Islander Engagement Specialist, in partnership with Mullum Mullum Indigenous Gathering Place, delivered monthly Dadirri sessions for the Elders Planned Activity group. This initiative was a culturally informed therapeutic intervention to help negate the effects of prolonged isolation and depression experienced during Victoria's COVID-19 shutdowns. 
Dadirri is an ancient cultural practise of mindfulness and meditation that can help relieve the effects of stress and anxiety, calm the mind, improve sleep and bring a sense of renewal.
Dadirri was brought to national attention through the teachings of Miriam-Rose Ungunmerr-Baumann, an Aboriginal activist, educator and artist of the Ngan'gityemerri language group, Daly River region in the Northern Territory. She was named Senior Australian of the Year in 2021.


Cultural Awareness Training
We source Cultural Awareness training for our staff from a number of providers in Victoria including the Victorian Aboriginal Child Care Agency (VACCA), Salt Consultancy and local Elders. This allows us to access culturally specific training to help us better meet the needs of Aboriginal communities and increase our cultural competency as an organisation. 
Our Aboriginal and Torres Strait Islander Engagement Specialist also regularly delivers cultural education presentations to a range of external agencies, organisations and universities. 


DRUMBEAT program 
DRUMBEAT is a 10-week, evidence-based social and emotional learning program which utilises drumming to explore topics such as relationships, behaviour, emotions, communication and self-confidence. 
DRUMBEAT programs have been run for Aboriginal women at the Dame Phyllis Frost Centre, alongside the Sisters Day In family violence prevention and wellbeing workshop facilitated by Djirra. DRUMBEAT women's programs were also delivered alongside Elders, supporting a self-determination approach to narrative group therapy. 
We welcome opportunities to deliver DRUMBEAT in partnership with new and existing community programs and at events.
Find out more about the DRUMBEAT program.


Strengthening Cultural Safety
In 2021, we engaged with the Strengthening Cultural Safety project, a state-wide initiative and response to recommendations from the Royal Commission into Family Violence (Victoria).
This project enabled mainstream organisations delivering family violence services to work alongside Aboriginal Cultural Safety Officers placed strategically across Victoria. We undertook cultural safety assessments in all areas of operation, workforce development and relationships with community. The project was supported by the Victorian Government Department of Health and Human Services (DHHS), Family Safety Victoria (FSV), and the Department of Justice and Community Safety (DJCS).
Read the Strengthening Cultural Safety Project Final Report.
Aboriginal Community Controlled Organisations
View a list of external Aboriginal community services and cooperatives, networks and gathering places, and Victorian State Government contacts, for Aboriginal and Torres Strait Islander peoples.