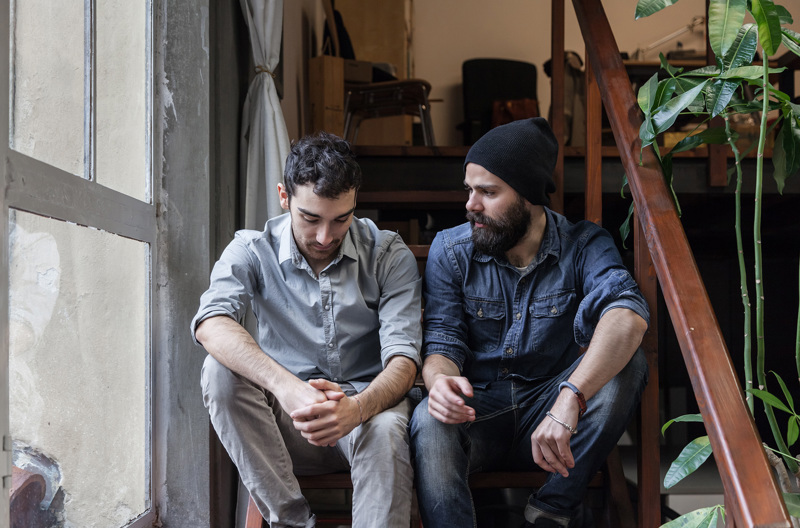 Programs for men who use family violence
We offer men's behaviour change programs (MBCPs) and men's case management programs for men who use, or have used, family violence. Additional support is available for men who have completed an MBCP.
We also support men through our free men's wellbeing program and DadStuff webinars for fathers.
Men's Behaviour Change Program (MBCP)
A free 20-session group program for adult men who have used violent or controlling behaviours towards their partner/s and/or children and would like help with managing their behaviour.


Is it time for change? How do I know if this program is for me?
As a man, in your relationship with your current/former partner, have you:
often criticised, called them names, put them down in front of others or said things to frighten them?
hit, punched, slapped, pushed or shoved them, or pulled their hair?
made threats of physical violence, such as threatened to throw something, use a weapon, hit them, or hurt a pet?
pressured or forced them to have sex when they didn't want to?
been extremely jealous, such as unfairly accusing them of paying too much attention to another person?
controlled your shared finances so they are dependent on you, or prevented them from using money for their own purposes?
not let them do something they wanted to do, such as meeting up with friends or working?
used your children to control and dominate them?
abused your children or controlled them in ways that are not healthy and supportive of their development?
If you answered yes to any of these questions, and you're ready to take responsibility for your behaviour and would like help to change, an MBCP can help.


Programs aim to:
encourage you to take responsibility for using violence.
give you an opportunity to explore and reflect on your attitudes and beliefs that may influence your use of violence.
increase your understanding of the impact of your use of family violence towards your partner/s and/or children.
help you make changes to develop safe and respectful relationships with your partner/s and/or children.


How are groups provided?
We run face-to-face groups at our centres in Boronia, Cranbourne North, Kew, Shepparton and Sunshine.
Online services may be provided in cases where in-person groups cannot be delivered in a COVIDSafe way.
How much does it cost?
Free of charge. Bookings are essential as places are limited.


How do I get started?
To find out more or to make an appointment for an assessment, contact your nearest centre directly:
We also offer a Vietnamese Men's Behaviour Change Program in Sunshine which is delivered in-language by our professional Vietnamese facilitators.
Individual sessions
Access up to 10 x 30-minute sessions, provided online.
This program supports men across Victoria who:
have completed at least 3 sessions of an MBCP with any organisation* during the past year
can identify their own behavioural goals related to safety values, beliefs and attitudes, and
can show that they are motivated and committed to achieving these goals.
Sessions are organised on an individual basis with each participant. They are designed to give men an opportunity to build on the safety and accountability work that they started during their MBCP.
*Please note: If your MBCP is provided by another organisation, you will need to provide a letter confirming your participation, before joining a post-MBCP program at Relationships Australia Victoria.
Contact us
To learn more, express interest or make an appointment for an assessment, contact your nearest centre listed below.
Cranbourne and surrounding suburbs
All other areas of Victoria
Men's Case Management Program
Free, tailored support for men who want to stop their use of violence and abusive behaviours.
Who can use the program?
The program offers individual support for men aged 18 years and over who want to take responsibility for and stop their violent behaviour, but who are struggling with other challenges that are making this change difficult.
These challenges may include:
housing difficulties and homelessness
drug and alcohol use
mental and physical health issues
language and cultural barriers.
How can I access the program?
The program can be provided face-to-face or by telephone. 
During this time, your case manager will work together with you to identify your goals that are related to your behaviours that you want to change, and they will connect you to relevant support services. 
In some circumstances, we may also be able to provide assistance with accessing services, such as counselling, psychology and health services not covered by Medicare, to help you to create healthy relationships with your family members.
How do I get started?
To get started, contact your nearest centre to make a time to meet privately with one of our case managers and talk about your circumstances.
If the program is suitable for you, we can provide you with up to 20 hours of support over a period of time that meet your needs.
Family safety support
Family safety is a vital part of these programs, so our family safety practitioners will make contact with your partners and/or family members to offer them support and assistance they might need.
We do this because people exposed to or affected by family violence also need support.