AccessResolve Property Dispute Resolution for Court-Ordered Clients: Satisfaction and Outcomes
We're pleased to share our latest research summary on clients' satisfaction with and outcomes from our AccessResolve service.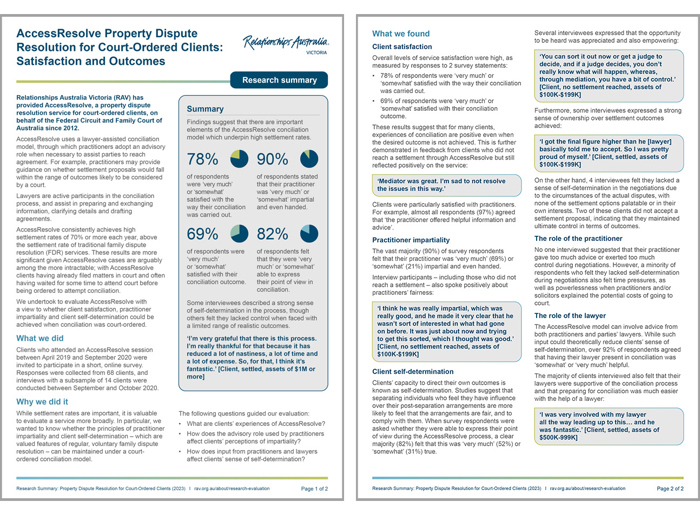 Since 2012, Relationships Australia Victoria has provided AccessResolve, a property dispute resolution service for court-ordered clients, on behalf of the Federal Circuit and Family Court of Australia. The service consistently achieves high settlement rates of 70% or more each year, above the settlement rate of traditional family dispute resolution (FDR). 
AccessResolve uses a lawyer-assisted conciliation model, through which practitioners adopt an advisory role when necessary to assist parties to reach agreement, and lawyers are active participants in the process. 
In 2019-20, we evaluated the service with a view to whether client satisfaction, practitioner impartiality and client self-determination could be achieved when conciliation was court-ordered. 
The results of the study were first presented at the National Mediation Conference in September 2021. 
Key findings include that: 
78% of respondents were 'very much' or 'somewhat' satisfied with the way conciliation was carried out

 

90% of respondents stated that their practitioner was 'very much' or 'somewhat' impartial and even-handed

 

69% of respondents were 'very much' or 'somewhat' satisfied with their conciliation outcome

 

82% of respondents felt that they were 'very much' or 'somewhat' able to express their point of view in conciliation

 

92% of respondents agreed that having a lawyer present was helpful, and no clients interviewed felt that their practitioner exerted too much influence during negotiations.
More information

 
Look out for the article we are preparing for submission to the Australasian Dispute Resolution Journal.