Our latest research summary on our national study on outcomes and efficacy of dispute resolution for separating couples.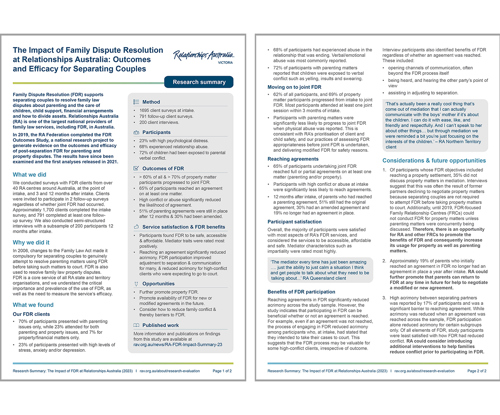 In 2019, the Relationships Australia Federation completed its Family Dispute Resolution (FDR) Outcomes Study. This national research project was designed to generate evidence on the outcomes and efficacy of the FDR service for separating couples. FDR supports such couples to resolve family law disputes about parenting and the care of children, child support, financial arrangements and how to divide assets. RA is one of the largest national providers of family law services, including FDR, in Australia. 
The results of the study have been examined and the first analyses released in 2021. 
Key findings include that: 
Almost two thirds (65%) of participants reached a full or partial agreement on one matter or more.

 

Overwhelmingly, participants found FDR to be safe, accessible and affordable. The traits of mediators were rated most positively. 

 

Reaching an agreement significantly reduced acrimony between the two parties. Simply participating in FDR alone, however, also reduced acrimony among those clients who expected to proceed onto court, and the FDR process also improved communication and adjustment to separation for many participants.