Re-connecting face-to-face with the family and relationship services sector
RAV was pleased to attend the recent Family and Relationship Services Australia (FRSA) and Australian Institute of Family Studies (AIFS) conferences in May and June 2022.
After primarily attending events online over the past 2 years as a result of COVID-19, it was wonderful to re-connect in person with our peers across the family and relationship services sector and to hear the latest in research and evidence-based practice.
At the FRSA conference, our Senior Researcher Dr Genevieve Heard presented about a collaborative 2-year research study into post-separation co-parenting apps.
At the AIFS conference, our CEO Dr Andrew Bickerdike and Dr Genevieve Heard presented about our post-separation property services, shared client perspectives and reflected on ways that professionals might continue to serve the needs of families seeking assistance with property division.
Our sponsored coffee cart and lounge area were popular with AIFS conference attendees and we enjoyed the opportunity to engage with speakers and delegates from across Australia at our information stand. Each coffee cup was wrapped in a plantable cup sleeve containing seeds and an invitation to 'grow some flowers to brighten up your day or someone else's.'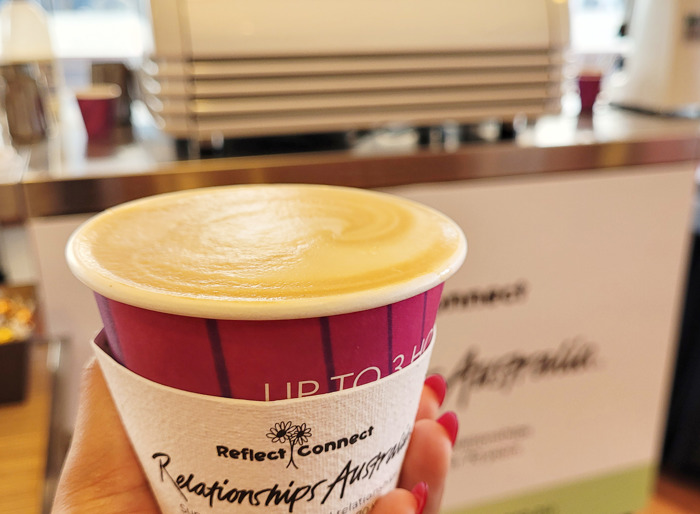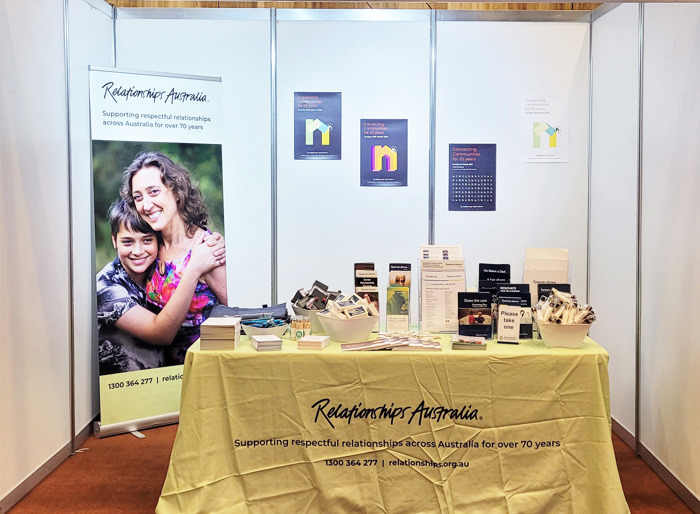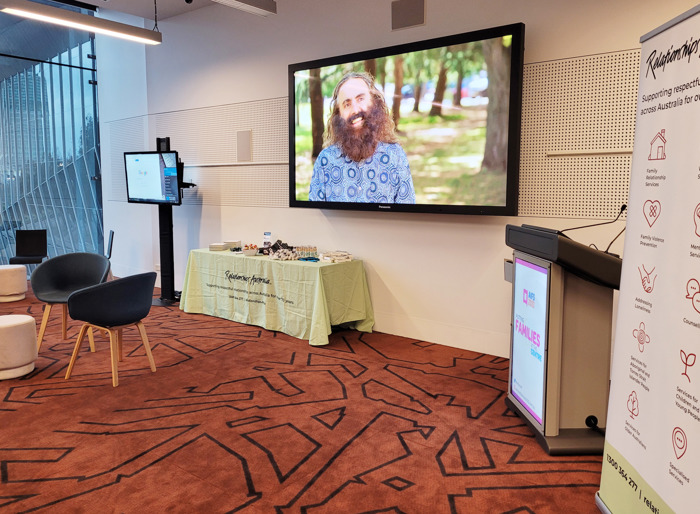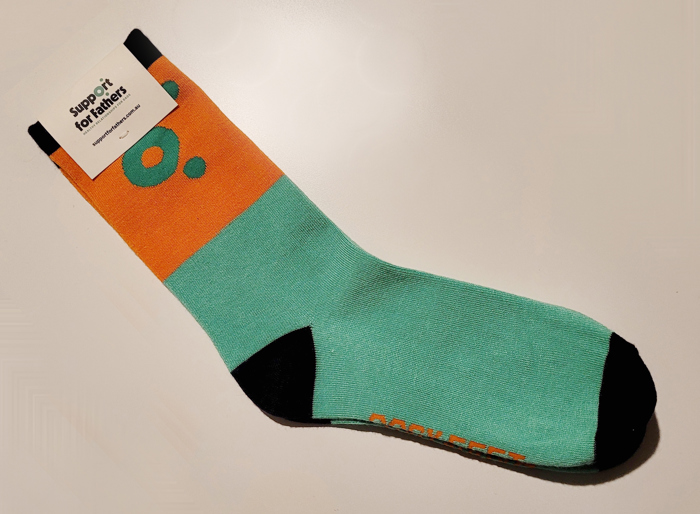 Our Relationships Australia resource booklets, training and service information and branded merchandise were particularly popular, with our colourful, bamboo-blend Support for Fathers socks (pictured above) described by one attendee as the highlight of the conference merchandise.
We're giving away free prize packs to the first 10 people to email us. The packs; which include 'cosy feet, happy dad' socks, a pen and information about dads, their roles and what we're doing to support them to be the dads they want to be; will be posted out to recipients (limit of one pack per person). This is a great gift for the dad in your life so get in quick!
Please note: This giveaway is not open to Relationships Australia Victoria staff or their immediate family members.
Relationships Australia is also a sponsor for the upcoming Pacifica Congress Conference from 7-9 July and will be hosting an information stand at the event. Drop by our stand to pick up some information about our services, and join us at the following sessions:
Thursday 7 July, Session 5 - Parenting Coordination around the world: Developments in parenting coordination globally – a context
RAV CEO Dr Andrew Bickerdike and RAV Clinical Educator and Supervisor Lilia Szarski


Friday 8 July, Presentation 1 - Children in the parenting coordination process
RAV Clinical Educator and Supervisor Lilia Szarski


Friday 8 July, Presentation 7 - Best Interests and Procedure in the FCFCOA
RAV Clinical Educator and Supervisor Lilia Szarski