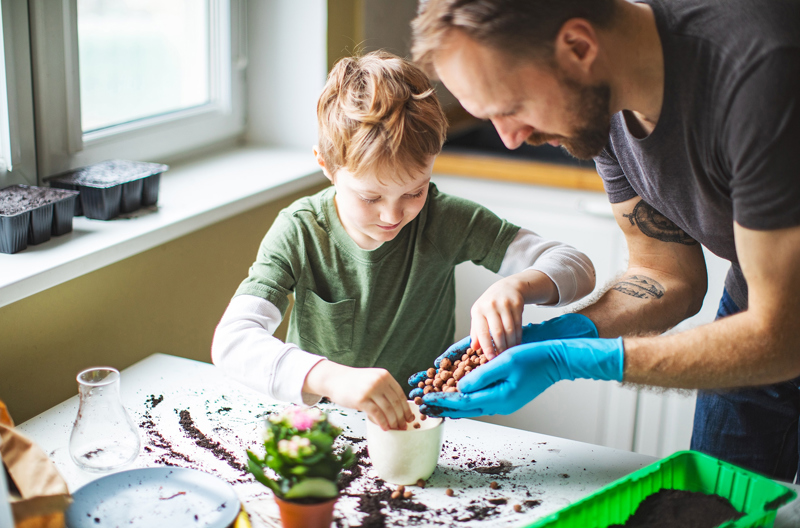 Specialised training programs
We support dads and men through our Support for Fathers project and Men Being Well program, as well as through our general counselling, family dispute resolution, family violence and group programs. We also provide specialised rehabilitation and reintegration programs for Victorian correctional cohorts.
Support for Fathers project
Support for Fathers is a national project providing dads and father-figures with options and information about fatherhood, the relationship with their partner and connecting with their kids.
We enable workplaces and organisations to engage and work with dads and families more effectively and support them through fatherhood.
On the Support for Fathers website, you can:
view our fatherhood resources
check out the DadStuff social media wall
register for workshops for dads and father-figures
download our Professionals' Toolkit
access training for professionals and service providers
subscribe to the Support for Fathers newsletter.
Relationships Australia Victoria is funded by the Department of Social Services as part of the National Plan to Reduce Violence against Women and their Children 2010-2022 to deliver Support for Fathers.
Men Being Well
The Men Being Well program supports participants to create affirming and ongoing connections with other men, with a focus on building positive mental health, wellbeing and resilience. Research indicates that 'being well' is enhanced by social connection, psychoeducation, personal reflection, and commitment to meaningful change.
While the program works with individuals, we know that positive change for individuals also contributes to positive change in all aspects of life, such as relationships with partners, children and communities.
Men Being Well offers a relaxed, welcoming and safe place for men to reflect on their own personal journeys, have good conversations with other men and share space and stories together. This not only enhances men's wellbeing but is also a positive reminder of the many benefits of just catching up with and supporting other men.
Rehabilitation and Reintegration Programs
We have expertise in developing and delivering rehabilitation and reintegration programs for the Victorian correctional cohort and across key areas in the correctional system. 
Our programs and resources are designed for a broad audience, keeping in mind the different experiences of each individual and the need to build resilience through a strengths-based approach and trauma-informed practice. 
LINCS
LINCS is a strengths-based psychoeducational workshop specifically designed for individuals who are subject to a Community Correction Order (CCO). The program is funded by Corrections Victoria and aims to increase CCO completions.
The LINCS program name is an acronym representing the four core modules of the workshop.
L = Looking At Me
I = Identifying Priorities
N = Next Steps
CS = Community Supports
Built upon a straightforward, accessible and clear approach, workshops are designed to improve participants' capabilities and strengths, using skills-based activities that identify strategies and supports.
The activities highlight the importance of the individuals' internal and external capacity to manage their life, understand what drives their behaviour and identify what their priorities are.
This leads to looking at social supports, other opportunities they want to pursue, resources they need and how to put steps in place to achieve their goals. Individuals will ideally complete the workshop with an action plan in place.
We have been successfully delivering LINCS since February 2017 and have received positive feedback from program participants and Corrections Victoria and achieved excellent learning outcomes to date.
For more information, read our most recent annual report.
LINCS in Families
Since February 2020, we have delivered LINCS in Families across metropolitan Melbourne and regional Victoria, to those on a CCO as a result of family violence.
LINCS in Families is designed to engage individuals in a safe environment with honest discussions around behaviour, healthy relationships, understanding conflict and expectations of self and others.
The program covers the same four modules as LINCS but has a different focus and has been adapted for the intended audience.
During the program, participants:
identify their priorities, values and strengths
create a plan of how they want to move forward
practice goal-setting strategies
learn about community support and resources available to them.
Individuals leave the program with a deeper understanding of the impacts of their behaviour across different types of relationships and connections with the world.
ATLAS
Through funding support from Corrections Victoria, we have designed a suite of non-clinical training modules targeting the wellbeing and personal development of un-sentenced and pre-trial individuals (persons on remand) in correctional facilities across Victoria, in addition to some sentenced individuals.
The ATLAS program recognises that persons on remand present with a range of complex needs, and require tailored intervention and support for their successful rehabilitation and reintegration into the community.
The program takes a strengths-based approach, incorporating adult learning principles and encouraging skill development in practical and interactive psychoeducational sessions, with the goal of reconnecting and integrating participants' desired outcomes.
ATLAS is made up of eight modules that run for two hours each, covering the following topics.
Adjusting to change
Positive communication
Values and Priorities
Building resilience through understanding character strengths
Understanding stress
Managing self and responding to conflict
Healthy relationships with family, friends and community
What is healthy living?
Since 2018, we have also provided training for facilitators delivering the ATLAS program across correctional facilities. In the first 6-months of delivery, over 3,500 participants completed the program and this number has since grown. 
The ATLAS program continues to receive consistent positive feedback from both program facilitators and participants. Additionally, the sites at which the program has been delivered have reported a decrease in critical incidents and in property damage since the program was introduced. Correctional Site Managers have confirmed and attributed these changes to the delivery of the ATLAS program. 
SORT
In 2018, we developed a suite of non-clinical training modules targeting the wellbeing and personal development of un-sentenced and pre-trial individuals (persons on remand) in correctional facilities locations across Victoria. Read more on page 39 of our 2017/18 Annual Report [PDF, 2MB].
Contact us
For information about our Rehabilitation and Reintegration Programs, contact us via email or by calling 0427 513 231.
Alternatively, you can call our Training and Development Team on (03) 8573 2222.
Training e-Newsletter
Subscribe to our dedicated training newsletter, to receive upcoming professional webinars and workshops, and accredited and customised training opportunities direct to your inbox.